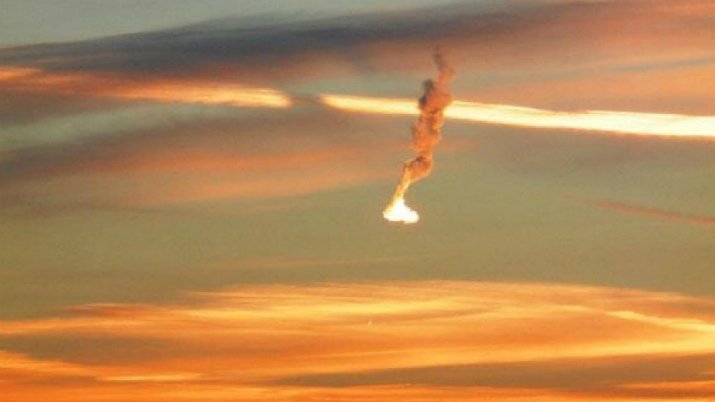 3 mins read
Aliens exist? People stunned as fireball UFO appears in Peru's sky (Video+)
[mks_pullquote align="left" width="300″ size="24″ bg_color="#e8e8e8″ txt_color="#0a0a0a"]Local residents of Peru recorded the UFO sighting on their phone and uploaded it to Youtube. The video soon became viral on social media and received thousands of views and shares.[/mks_pullquote]
In a new alleged UFO sighting, people have spotted a mysterious fireball crashing through the skies of Peru. Stunned Peruvian residents got shocked soon after seeing the unknown bright object flying in the sky. While some claim that the falling object was a bright meteor but conspiracy theorists still believe that it was UFO and alien were spying us.
The weird bright object had very different properties than the several meteorites that crash on Earth each year. The flying object left a trail behind it which has never been seen before in any meteorite that fell on Earth. According to Meteorologist Alejandro Fonesca, from the Universidade Federal do Acre, no meteorite was scheduled to fall in the area, and believes that the fireball was a man-made space junk or an old satellite.
While explaining he said that a falling object experiences friction from the Earth's atmosphere that causes the object to heat up and ultimately burn into ashes. Meteors burn in a specific way, but the bright object spotted in Peru was burning differently.
"When the debris enters the atmosphere it comes under intense friction and this causes it to set on fire," he said. "That is what could have happened."
Local people recorded the bizarre event on their phone and uploaded it to Youtube. The video became viral on social media and received thousands of views and shares.
https://youtu.be/QnJdZFKo04g
Conspiracy theorists those who believe in the presence of aliens said that extraterrestrial creatures are spying on us and they came over Peru to monitor our activities. It is not the first time that mysterious UFO or fireball appeared in the sky. Recently, people witnessed a mystifying object in the UK's night sky on the eve of New Year. The mysterious object flashing bright green light created many doubts in the mind of people.
People also reported to a verticle UFO flying in the skies of Mexico two weeks ago. On the alien sighting, UFO expert named Pedro Ramirez  said that "You can see that the tubular UFO is flying vertically over the city." According to him, the alien activities have increased in the last two months of 2017, and he is expecting that more and more number of alien activities like UFO sightings that could be seen in upcoming days. He informed that aliens are aware that a number of space launches have been made by us recently and they have also detected that we have been sending 'war material' to space. Scientists researching on aliens have always said that aliens are keeping an eye on us and according to them we are superior and more powerful than them. "Concerned by our activity, they have been increasingly monitoring our planet," Ramirez said.
According to him, this year will be very crucial for those who are constantly researching on alien life and UFOs and follow the UFO alien activities more closely. Ramirez has predicted that the upcoming launches by NASA as well as SpaceX will result in an increase in the number of UFO sightings. "Some of these space missions have 'suspicious objectives' that alien beings are aware of," he informed.