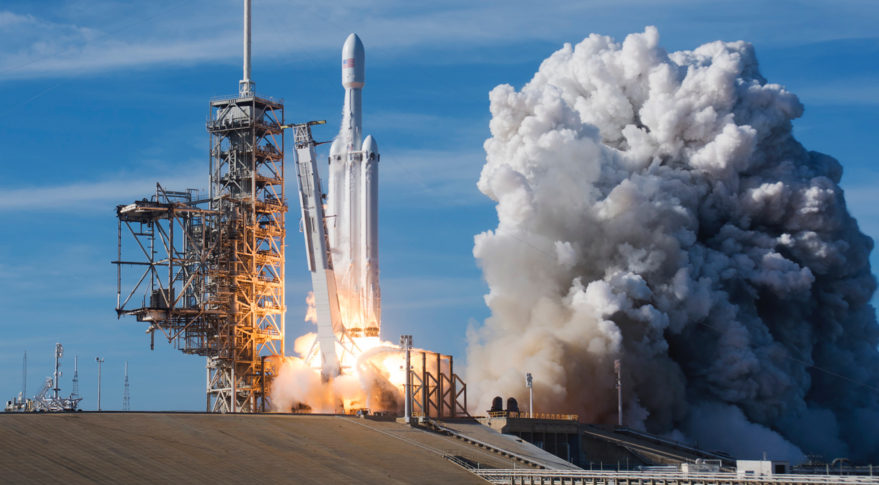 2 mins read
SpaceX' Falcon Heavy wins $130 million contract from U.S. Air Force to launch a classified satellite
SpaceX, Elon Musk's space company which made some pathbreaking launches over the course of few years has officially won the contract to launch a secret satellite aboard its Falcon Heavy rocket that was recently tagged as the world's most powerful rocket. According to a published report, United States' Air Force announced the $130 million contract to the SpaceX for which, the latter will deliver the AFSPC-52 satellite into the orbit in 2020.
SpaceX actively dominated the contract with a bid of $130 million that helped it win the contract for which, United Launch Alliance (ULA) and Boeing-Lockheed Martin venture companies were contesting to win the contract. ULA charges an estimated $350 million per launch on its Delta 4 rocket which made it easier for the Air Force to choose SpaceX over other space companies as they are planning to make space accessible at affordable rates to the American taxpayers.
Elon Musk's SpaceX recently won the certification to use its Falcon Heavy rocket for the military after it spent around two years chasing for the certification. The firm also invested around $60 million and even filed a lawsuit against United States Air Force (USAF) that was retracted few months before the certification was passed. The certification allows SpaceX' Falcon Heavy to conduct military launches and has already received few orders from various countries.
The space agency will launch the secret cargo i.e. AFSPC-52 satellite aboard its Falcon Heavy in 2020 for which, it will soon start conducting required testing and other investigations to make the launch successful. SpaceX spent half a billion dollars to develop this system which means, it literally has a lot on the line. As per its last launch for the military is concerned, it went horribly wrong after the multi-billion Zuma satellite went missing in the space. However, investigative reports concluded that Northrop Grumman and its subcontractors were responsible for the cargo to go missing.
SpaceX is slated to conduct two more Falcon Heavy launches this year which includes more than two dozen smaller satellites in its first mission and a commercial satellite in its second mission.