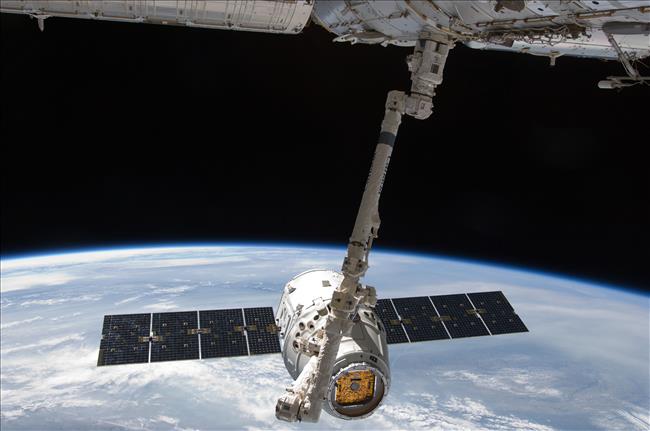 2 mins read
Next SpaceX mission to the ISS scheduled to launch on Friday, June 29
Elon Musk's SpaceX is gearing up for the upcoming Friday launch towards the International Space Station where its Falcon 9 rocket will take tons of cargo onboard its Dragon capsule towards the space station. The launch is scheduled on upcoming Friday, June 29 at 5.42 a.m. liftoff and the capsule will finally reach the station around 5.30 a.m. on Monday, July 2. It is the 15th of total 20 cargo resupply missions to the ISS that NASA awarded SpaceX with under its Commercial Resupply Service contract that expires in 2020.
Talking about the upcoming launch, SpaceX will attempt to launch the Dragon capsule onboard Falcon 9 Block IV rocket that was previously used to transfer NASA's TESS satellite into the orbit in April this year. SpaceX may not try to land or acquire the boosters as Block IV rockets were originally made to last only two launches. It is also because SpaceX is phasing out the older version i.e. Block IV rockets in order to operate on its newer Falcon 9 Block V version which is highly efficient and powerful that can be used for 10 times with minimal refurbishment and about 10 times with refitting.
A lot of cargo will be stuffed in the capsule which includes tons of food supplies, science experiments such as apparatus to study the growth of nanotubes, as well as other experiments, includes studying water stress in plants, etc. Apart from these experiments, the capsule will carry a new Latching End Effector (LEE) developed by Canadian space agency for its robotic arm onboard the ISS called as Canadarm2. Last year, one of the LEE failed to operate and that is why the space agency decided to send a replacement in this CRS-15 mission. Canadarm2 is one f the crucial and high-tech robotic arm on the ISS that performs spacewalks to different locations outside of the ISS using its hands to carry out particular tasks.
Moving further, the capsule will also carry a toy dog that represents Lewis and Clark's Newfoundland. The toy dog has been sent to the ISS to celebrate both the upcoming 60th birthday of NASA and 50th anniversary of National Trails System. Since SpaceX is not expected to recover the boosters, you won't see drone ship strolling across to locate it. The launch will occur at 5.42 a.m. (local time) on June 29, Friday for which, the webcast will commence 15 minutes before liftoff on both SpaceX and NASA TV.