Yet another asteroid will be barrelling near the Earth's orbit today at midday when the distance between the Earth and this asteroid is the closest. As per NASA, the asteroid named as KW1 2018 is expected to make its closest approach towards the Earth today on May 24, 2018, at midday when the average distance between the Earth and the asteroid will be merely 0.39 lunar distance which is one-third of the total distance from Earth to the moon. The object is around 4m in diameter which is equivalent to a car.
The average distance from the Earth to the moon is around 384,400km which is referred to as one lunar distance. The upcoming asteroid KW1 2018 will make its closest approach towards the Earth at 149,000km thereby enlisting itself in the Near-Earth Object (NEO) which is a repository maintained by the NASA which monitors and tracks all the objects near the Earth's orbital path that could or couldn't prove fatal for the earthlings. This is the second closest approach by an asteroid after an object passed through the Earth on May 15 within one lunar distance.
KW1 2018 is expected to flyby Earth at a speed of 7.3km/s or say, 26,280km/h which is staggeringly fast. NASA's JPL Solar System Dynamics Ephemeris calculator predicted that this particular asteroid made its last approach towards the Earth on August 22, 2011. Researchers made a model predicting the path of Earth's orbit and the asteroid's orbit and found out that on September 16, 2027, asteroid KW1 2018 will make its next approach towards the Earth. However, it will be 36,170,000km away from the Earth which means that it doesn't pose any problem.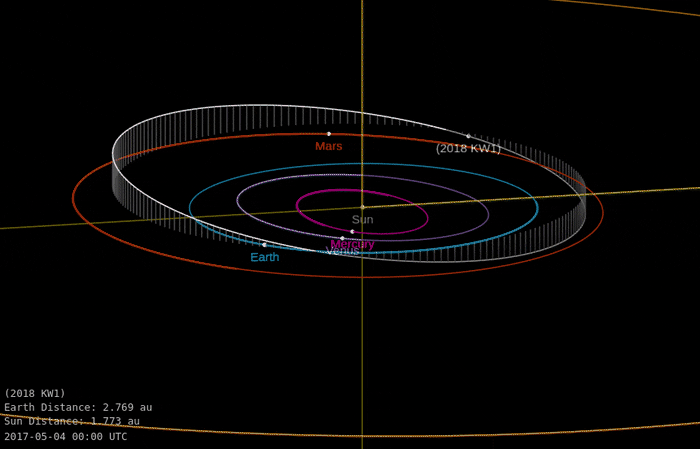 NASA classified this particular space rock as a Near Earth Object (NEO) and has classified it as an Apollo asteroid. There are basically four classes of asteroids based on their trajectories, aphelion, perihelion, etc that are Atira, Aten, Apollo, and Amor. The asteroid KW1 2018 is an Apollo space rock and these classes of rocks are speculated to be instrumental in providing liquid water and carbon-based molecules when it collided with the Earth thereby allowing it to sustain life.
As per the data, there are at least five more asteroids waiting to dash past the Earth within this month of May 2018 alone. However, the mean distance between these asteroids and the Earth would be within 10 to 20 lunar distances which are between 3,840,000km to 7,680,000km.