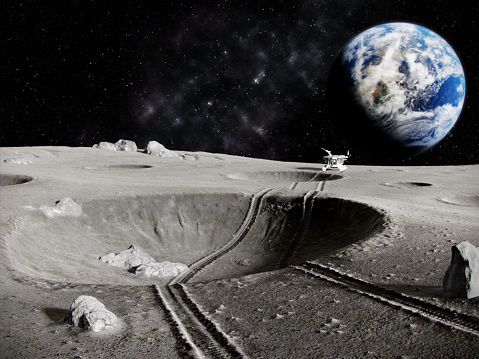 3 mins read
UAE plans to Launch its first Moon Rover by 2024
The United Arab Emirates (UAE) has recently planned to visit the moon in a lunar rover called Rashid which is scheduled to be launched in the year 2024.
While the nation's first beyond the Earth's orbit mission is going on the announcement to visit the moon has been declared. Adnan Airais headed the agency's Mars 2117 program in the year 2017 told that there are many objectives behind the lunar mission and this mission will definitely help us to understand the insight of the moon. He also added that this will support their ultimate goal of sending humans to Mars and creating a settlement on Mars. UAE is planning to develop "Mars Science City" which will take part in practice "Red Planet mission".
The nation is preparing two astronauts for the mission out of which one has to spend a week on the International Space Station in 2019. Also, their preparation for the Hope spacecraft's orbit arrival at mars in February. This space station is hardly two decades old, but the announcement of the lunar mission will definitely hinder the earth's observation satellites, human space flights, and mars explorations. Also, UAE is planning to prepare a Hope Spacecraft's orbit arrival at Mars in February.
Moon is considered a stepping stone for mars which the nation is planning to visit soon. The team is initially focussed on the initial lunar rover. The team still has not selected a landing site among five selected finalists. The candidate's site is located in the equatorial region near the moon side. It will act as a stepping stone before they actually reach the red planet.
Hamad Al Marzooqi believes that the moon is nearer to Earth than mars and it will enable them to do high-frequency missions. He later added that they want to explore newer areas that were not explored in earlier missions.
Rashid (after the name of late Sheik Rashid Bin Saeed Al Maktoum) will have high-resolution cameras and microscopic imager about the surrounding of the moon. It will also have a Langmuir probe that will study every phenomenon of the moon.
The solar wind that strikes the day-side of the moon as the moon does not have any gravity to stop these slight positive charges which result in the negatively charged photoelectron sheath. This phenomenon is related to the Apollo-era exploration that is the stickiness of lunar dust.
The spacesuit material has also been evaluated so that it can withstand extreme conditions on the moon. Rashid's preliminary mission will last for one lunar day (approximately 14 days on earth). The rover will monitor and study the temperature and power with an agenda of waking them by the end of lunar nights.