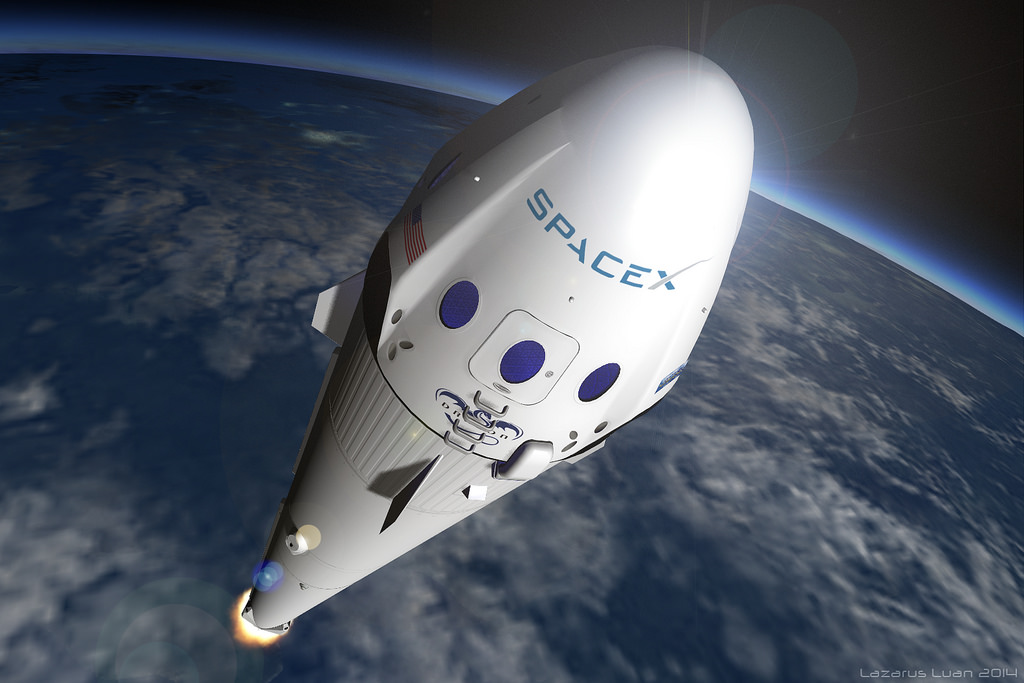 4 mins read
SpaceX all set to blast Falcon 9 rocket for 50th time on Tuesday
The California-based aerospace manufacturing company SpaceX will launch its Falcon 9 rocket on March 6, as per the reports. On March 6, that is, on Tuesday, the Falcon 9 rocket will blast off from Cape Canaveral Air Force Station carrying a Spanish telecommunication satellite.
The name of the satellite is Hispasat 30W-6. It is operated by Madrid-based Hispasat company, which will make a comeback to Space Coast after a 16-year gap with this latest mission. Also, Tuesday's mission will mark the 50th launch of the successful Falcon 9 rocket which made its debut flight in June 2010. A two-hour launch window for the Hispasat mission will open at 12:33 a.m. ET and will close at 2:33 a.m. ET on Tuesday.
The Hispasat 30W-6 communication satellite is built by Palo Alto and its main aim is to beam High definition TV programming in Spanish and Portuguese to the United States, Europe, and Northern Africa and to provide internet broadband services to rural areas. The satellite will also support corporate communication network. The Hispasat 30W-6 will replace the aging Hispasat telecom satellite that flew to space aboard an Atlas 2AS rocket from Cape Canaveral in September 2002.
Actually, the Hispasat 30W-6 mission was originally scheduled to take place on February 25. But it got delayed due to the requirement of more testing of the rocket's fairing or nose cone. Then the mission was again delayed last week to perform further testing on the rocket fairing's pressurization system. Now SpaceX is targeting Falcon 9 launch on March 6 for the Hispasat mission. The satellite weighs above six metric tons which is almost half-a-ton heavier than any of the previous payloads carried by Falcon 9. SpaceX will not recover the first stage Falcon 9 booster after the launch rather it will try to catch or recover the fairing or nosecone of the Falcon 9.
As Tuesday's launch will be the 50th launch mission of Falcon 9, SpaceX is very excited about the mission. If Falcon 9 launch becomes successful, then it can be said that it took seven years and nine months for the Falcon 9 rocket to reach 50 launches as compared to nine years and seven months taken by ULA's Atlas V rocket. Last year, SpaceX's Falcon 9 rocket attained 18 successful launches and also SpaceX has planned to have more than 20 Falcon 9 launches this year. Last month, SpaceX created history by successfully launching the most powerful operational rocket, the Falcon Heavy.
As per Wikipedia
Falcon 9 is a family of two-stage-to-orbit medium lift launch vehicles, named for its use of nine Merlin first-stage engines, designed and manufactured by SpaceX. Variants include the retired v1.0 and v1.1, as well as the currently operational "Full Thrust" v1.2 evolution. Falcon 9 is a partially-reusable launch system powered by rocket engines utilizing liquid oxygen (LOX) and rocket-grade kerosene (RP-1) propellants.
The current "Full Thrust" version can lift payloads of up to 22,800 kilograms (50,300 lb) to low Earth orbit, and up to 8,300 kg (18,300 lb) to geostationary transfer orbit (GTO), when flying in expendable mode. The first stage can be recovered and reused for GTO payloads up to 5,500 kg (12,100 lb), automatically landing after disconnection of the second stage.
In 2008, SpaceX won a Commercial Resupply Services (CRS) contract NASA's Commercial Orbital Transportation Services (COTS) program to deliver cargo to the International Space Station (ISS) using the Falcon 9 and Dragon capsule. The first mission under this contract launched in October 2012.
Altogether, the initial version 1.0 flew five times from June 2010 to March 2013 and version 1.1 flew fifteen times from September 2013 to January 2016. The "Full Thrust" version has been in service since December 2015. The Falcon Heavy derivative groups three Falcon 9 first stages together. SpaceX intends to certify the Falcon 9 to be human-rated for transporting NASA astronauts to the ISS as part of the Commercial Crew Development program. In October 2016, SpaceX CEO Elon Musk announced an upcoming "final upgrade" called Falcon 9 Block 5, which will feature increased engine thrust, improved landing legs, and other minor improvements to help recovery and reuse.