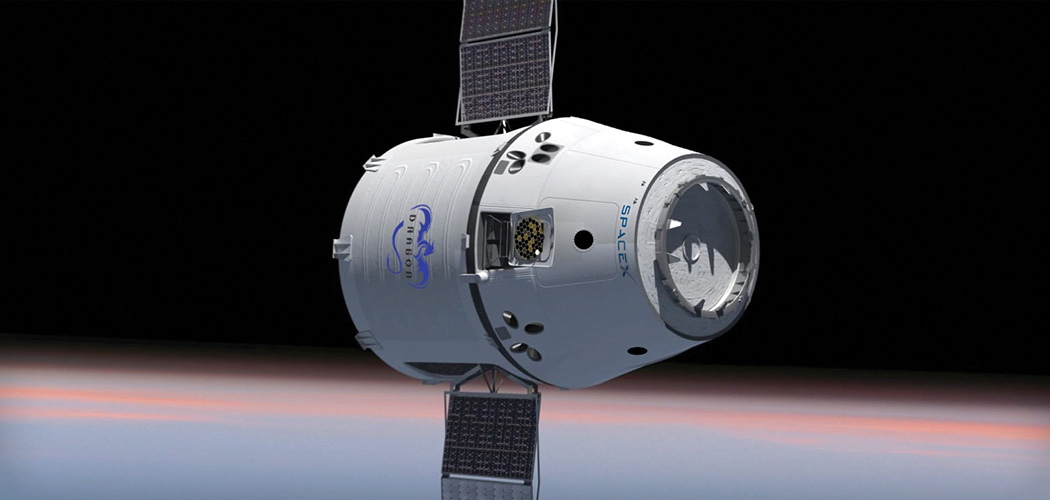 2 mins read
SpaceX Dragon spacecraft to return to the Earth next week
The Commercial Resupply Services (CRS-14) launched on April 02 from the Cape Canaveral that took the resupply ship Dragon to the International Space Station is set to embark on its journey to return to the Earth soon next week when its Dragon spacecraft is expected to splash down in the Pacific Ocean. SpaceX's Dragon spacecraft is expected to release from the ISS at 10:22 a.m. Eastern Time on Wednesday (May 02) with the target to splash down in the Pacific Ocean off the coast of Baja, California in the United States.
The return mission will have science experiments and cargo. Dragon spacecraft launched aboard the SpaceX Falcon 9 rocket launched at 4:30 p.m. from the Cape Canaveral Air Force Station LC40 with its Dragon spacecraft carrying 5,800 pounds of equipment, science experiments, and food supplies to the astronauts living at the ISS. It was 14th of the total 20 mission contracted by NASA under its Commercial Resupply Services contract that will end in 2020.
The Falcon 9 rocket at 156-foot is one of the biggest operation rocket. The CRS-14 mission used two reused components to complete the supply from the Earth to the ISS i.e. its booster was used back in CRS-12 in August 2017 while its Dragon spacecraft which is about to return on May 02 was used in April 2016 on its CRS-8 mission. SpaceX's Dragon spacecraft is presently the only spacecraft to return to the Earth after a mission to the ISS carrying equipment, science experiments, cargo and even a passenger if required.
According to the manifest, the upcoming Dragon spacecraft will enter into the Earth's atmosphere with the passenger 'Robonaut 2', a humanoid robot developed collectively by General Motors and NASA that was sent to serve on the International Space Station back in 2011. Robonaut 2 has undergone various repairs and tweaks onboard the space station, however, it is being sent to the Earth to conduct further repairs to its electrical systems. Once repaired, the robot will be sent to the ISS later next year.
SpaceX has been servicing CRS missions to the ISS since 2012 with a contract spanning to 2020. NASA recently awarded the contract to SpaceX, Sierra Nevada, and Orbital ATK that will be followed through 2024 where NASA will use the capability of these three service providers which show peculiar cargo carrying capacity. Orbital ATK is expected to take its next resupply mission to the ISS on May 20 that will be broadcast live on NASA TV.