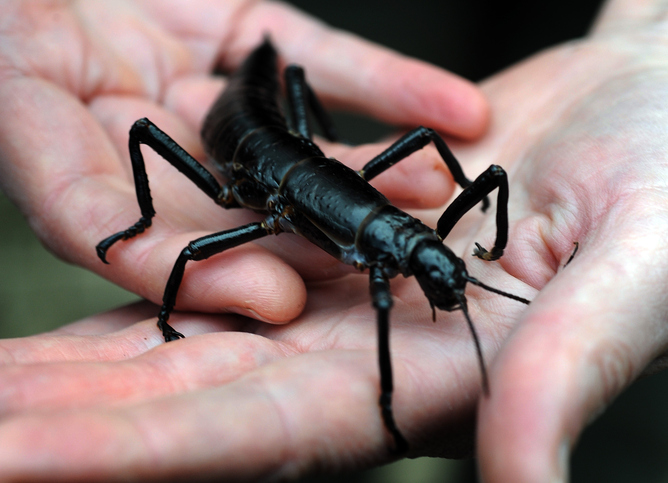 Stick insects were widely prevalent almost hundred years ago about 400 miles away from the Eastern coast of Australia. These six-inch long insects acquired a large section of the territory and ruled the island. But they became extinct as rats consumed each of them leaving no signs of survivors.
This creepy and dangerous looking giant stick insect is better known as the "tree lobster" and was native to Lord Howe Island, Australia. This blackish brown insect is also called the Lord Howe Island stick insect. The stick insect had a sturdy abdomen with six long legs and was once considered as one of the largest and heaviest flightless insects of the world. A Recent discovery by the scientists has confirmed that the insect is no more extinct and is ready to make a grand comeback. A genetic testing carried out among some of the species of stick insect found atop Balls Pyramid has confirmed the presence of these tree lobsters.
Back in 1918, a ship went past the Lord Howe Island at a very close distance with vast hordes of rats aboard the ship. All these rats invaded the island very quickly and due to unavailability of higher mammals to hunt the rats, the population of these rodents increased uncontrollably. Soon enough, the rats started feasting on the huge stick insects and made them go extinct. The year 1983 marked the official extinction of these insects along with twelve other species of insects. Few dead tree lobsters were found in the 1,844-foot-high Ball's Pyramid which was found by rock climbers in the year 1960. Scientists speculated that those insects might have traveled there to escape the wrath of the rodents but failed to survive lacking food and harsh climatic conditions.
In the year 2001, another expedition to the Ball's Pyramid revealed that some species of those giant stick insects are still surviving on the top of a tree present 213 feet above sea level. Some of these stick insects were taken to the Melbourne Zoo for a captive breeding program. Upon testing the museum specimens with the genome sequencing of the captive-bred stick insects, the scientists discovered that both the species just had a one percent variation. This concluded that the huge and rare stick insects are not extinct after all. The findings of this discovery were published in the journal Current Biology.