Synthetic Biology Market: Overview
According to Transparency Market Research's latest report on the synthetic biology market for the historical period 2017–2018 and forecast period 2019–2027, rise in demand for biologic drugs for treating various chronic conditions, decline in cost of DNA sequencing and synthesis, technological advancements, and entry of new players are anticipated to drive the global synthetic biology market
According to the report, the global synthetic biology market was valued at US$ 4.96 Bn in 2018 and is projected to expand at a CAGR of 26.3% from 2019 to 2027
To know the scope of our report Get a Sample on Synthetic Biology Market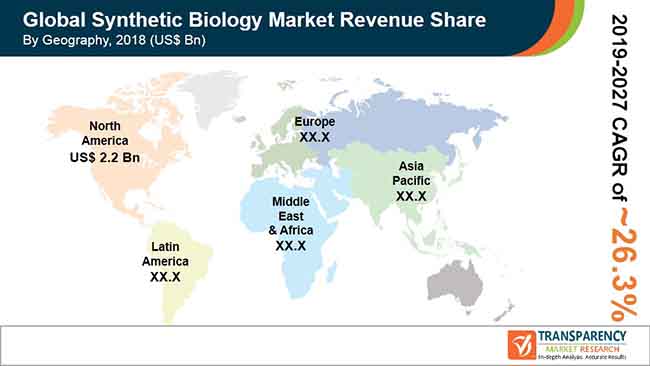 Request the Coronavirus Impact Analysis on this Market –  https://www.transparencymarketresearch.com/sample/sample.php?flag=covid19&rep_id=421
Rise in Prevalence of Various Diseases and Technology Advancements: A Key Driver
In October 2019, scientists reported in an article in the Nature Journal that a new DNA editing tool called prime editing can be a real search-and-replace function for DNA and repair any of the 75,000 known mutations that cause inherited disease in humans
CRISPR (clustered regularly interspaced short palindromic repeats) is a tool used for editing genomes, which has revolutionized synthetic biology. It allows researchers to easily alter DNA sequences and modify gene function and thereby makes gene editing procedures simple and reliable, presenting new opportunities for biological research and technological development. It is used for various applications such as correction of genetic defects.
Synthetic biology can be used for treatment of various diseases such as cancer. It can be utilized to create robust and effective adaptive cancer therapies that enable the specific targeting of cancer cells while sparing healthy cells.
Buy this Research Report Now –  https://www.transparencymarketresearch.com/checkout.php?rep_id=421&ltype=S
Increase in Investments by Government and Private Organizations into Synthetic Biology Market
According to the news portal by Science X, the government investment has been very strong over the recent years into synthetic biology. Road-maps and associated development structures have been developed via public agencies in several countries, including the U.K., the U.S., Singapore, China, Finland, and countries in the EU.
According to the news portal by Science X, private investment in synthetic biology is also growing at a remarkable rate. SynBioBeta stated that synthetic biology companies in the U.S. raised around US$ 200 Mn in investment in 2009. In 2017, investments rose to US$ 1.8 Bn.
According to SynBioBeta, synthetic biology investments took place from 2015 to 2018, and  showed that venture funding for the first eight months of 2018 grew 73% from 2017, with a trend toward bigger deals
Hence, increase in interest of key players and rise in investments and research & developmental activities in the synthetic biology market are the factors responsible for tremendously boosting the growth of the synthetic biology market
Biosafety, Biosecurity, and Ethical Risk Related to Synthetic Biology to Hamper Synthetic Biology Market
According to an article "Biosafety and biosecurity in Synthetic Biology: A review", published in 2019 in Critical Reviews in Environmental Science and Technology Journal, synthetic biology is a growing field which holds great promise in several areas of application. However, it is also associated with serious risks for human health and the environment that must be anticipated in order for development of effective prevention and management measures.
According to a study titled, "Synthetic biology: Recent progress, biosafety and biosecurity concerns, and possible solutions" published in 2019, although no biosafety and biosecurity incidents related to synthetic biology have been reported, regulation or governance at the levels of individual scientists, institutions, countries, and the global community are to be considered to prevent future crises
North America to Account for Major Share of Global Synthetic Biology Market
North America is projected to account for a leading share of the global synthetic biology market due to rise in patient population, presence of well-established health care infrastructure, increase in technological advancements, rise in number of well-equipped laboratories, surge in research & developmental activities in synthetic biology, growing biotechnology industry, and presence of key players in the region
The synthetic biology market in Asia Pacific is projected to expand at a rapid pace during the forecast period due to rise in geriatric population, increase in research & developmental activities, increase in initiatives by governments in the health care sector, surge in incidence of chronic diseases, and rise in interest of key players in expanding market presence in the region
More Trending Reports by Transparency Market Research –  https://www.biospace.com/article/allergy-relieving-eye-drops-market-antihistamines-segment-dominates-the-global-market-due-to-its-choice-as-first-line-of-treatment-for-allergic-conjunctivitis/