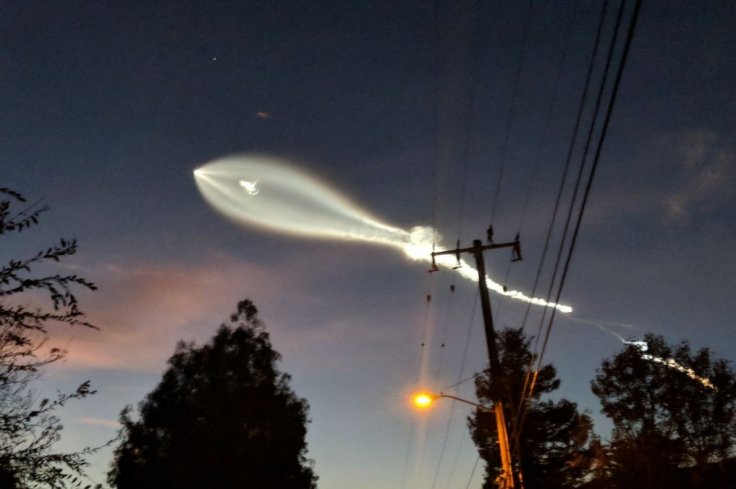 2 mins read
UFO or Glowing Jelly fish light in the sky confirmed as SpaceX rocket soars into sky
On the night of 22nd December, people in California saw a bright glow in the sky that looked something like a spaceship belonging to aliens. However, it was confirmed that the same was a reused SpaceX rocket that was set to launch the very same day with 10 satellites in its vicinity into the Earth's orbit. As the rocket soared into the sky, it left behind a trail of a mystery that made everyone wonder while speculating the presence of alien life.
The SpaceX Falcon 9 booster was launched from the coastal Vandenberg Air Force Base with the latest batch of new satellites for Iridium Communications. During the launch, the sun was setting which led to the creation of a shinning streak that was seen by a major portion of people in Southern California with the sight reaching as far as Phoenix city.
TV stations started receiving calls from places such as San Diego which is about 200 miles south of the site where the rocket was launched. The freeway saw a halt in traffic when cars stopped in Los Angeles, so that the drivers, as well as passengers, could take pictures and videos of the event. To deal with the false news, the Los Angeles Fire Department issued a statement via Twitter confirming that the light was a rocket launch in the sky.
Jimmy Golen, a sports writer for The Associated Press in Boston said, "People were wondering if it had something to do with movies, or TV or a UFO. It was very cool." Golen had visited Southern California for the holidays when he along with many other tourists saw the long, glowing tail as they were taking a tour of the Warner Bros. studio in Burbank suburb located in Los Angeles. SpaceX used the same rocket to send Iridium into the orbit in the month of June. During the first time, the first stage landed over a floating platform in the Pacific Ocean. However, this time, the rocket was allowed to land deep into the sea.
This launch marked the 18th and final launch of 2017 for the SpaceX. The company had a contract with Iridium to replace it with 75 newly updated satellites. The company expects to launch several more satellites to complete the job assigned to them by the first half of the upcoming year. The satellites sent to the orbit carry payloads for the global real-time aircraft tracking along with a ship-tracking service.