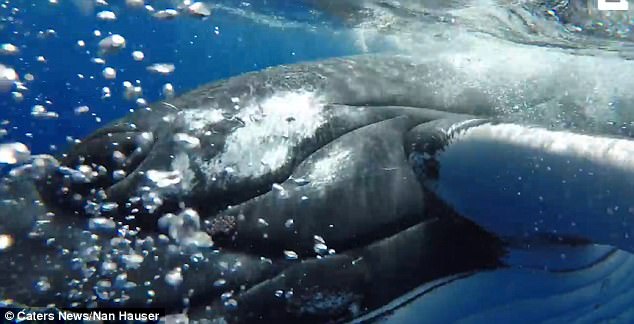 2 mins read
The giant marine mammal whale protects researcher from shark's attack (Video+)
Whales are intelligent and a widely distributed aquatic placental aquatic placental marine mammals. Recently a new clip surfaced the internet where a humpback whale is saving a diver from a shark. This showed that these creatures displayed their extraordinary instinct by protecting the diver. In the last September Nan Hauser, a marine biologist was studying this aquatic animal while she was swimming in the ocean, she saw a humpback whale approaching her. She was trying to estimate what was happening the whale began touching her.
She was frightened and had no evidence why the marine mammal was behaving in this way. She stated that she tried to get away from the whale as she was scared that what if the whale would break her bones and rupture her organs. This event continued for 10 minutes, and then Hauser's captured her in camera. In the end, she came out safely with a few scratches on her body.
After some time Nan reviewed the footage captured by her camera and found out that the whale might be protecting her from a dangerous tiger shark. It was the creature's leisurely effort to drive her away from the dangerous and deadly shark attack. Still, it is difficult to say that what was the whale's intentions but it is amazing that whales also have their protective side specifically towards their fellow creatures. Hauser said that she is a scientist and if anyone told her this story, she would not have believed it but she lived it and experienced it.
She achieved this after 28 years of research; now she has a video that proved the protective nature of Humpback. The footage was captured while diving for research in the Cook Islands in the South Pacific. The video indicated the heartfelt moment that the humpback whale protected her while this video was being filmed, Hauser was not aware that a shark was around her.