An interesting new development in these gloomy COVID times is the deployment of a customer-service robot at Yatharth Super Specialty Hospital in Noida Extension. Referred to as 'Mitra' or friend, this robot helps COVID patients connect with their friends and relatives.
This comes as a boon for those COVID patients who haven't been able to use their phones. With the help of Mitra, they can communicate with their dear ones. Since social distancing is the norm for Corona management, patients are isolated.
Some of them are unable to use their mobile phones too. With the help of a tablet and camera attached to its chest, Mitra can connect the patients with their loved ones. Patients feel better after having interacted with their families on video calls. Mitra robot also helps with remote consultations with specialists. Since it is not advisable to physically visit the patients, doctors and nutritionists use Mitra to follow up with the COVID patients.
Mitra can help in the process of screening and pre-diagnosis. It has been deployed in Fortis Hospital at Bengaluru for monitoring all medical and non-medical staff. It's based on speech and face recognition features and offers autonomous navigation for people with COVID symptoms.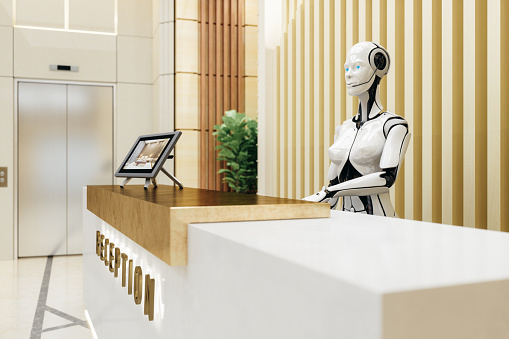 With feedback from the doctors there, Mitra was fine-tuned. Mitra is ideal for emergency services. It has been used to check for symptoms by measuring infrared radiation from the patients. With this information, patients can be assigned to the right doctor. It has thus limited the touch-points between patients and medical staff.
Mitra owes its creation to a Bengaluru startup called Invento Robotics. Spearheaded by Balaji Vishwanathan of Invento Robotics, the Mitra robot can synthesize multiple languages. Mitra is a humanoid robot that is used for customer engagement.
It was launched by Prime Minister Narendra Modi along with Ivanka Trump in November 2017. It is enabled with facial recognition software and can perform a variety of tasks with its Artificial Intelligence capabilities. Built with fiberglass, Mitra works on a proprietary operating system. With finger, shoulder, and elbow movements, this robot can perform some hand gestures including 'Namaste'.
Use Mitra to click pictures, welcome and entertain customers, and even tweet! Mitra and Mitri are the humanoid robot team that has been deployed in companies such as Morris Garage, Accenture, PVR Cinemas, and HDFC; amongst others. Mitra has been deployed in airports, malls, banks and is being rented out at weddings and other functions. Once charged, the humanoid robot can function for about 8 – 10 hours.