Since its onset, 2020 has proved to be an extremely challenging year with every passing month. However, the online delivery services have stayed ever faithful even in these trying times. Since 2016, both medicinal and recreational use of Cannabis has been legalized in many states of the U.S.
Hence, like any other service, weed too can now be ordered online and have delivered to your doorstep. Ordering weed online and having it delivered has become as normal as making an Amazon delivery. Especially considering the current situation of the world, quarantine has skyrocketed door delivery sales, particularly to weed selling institutions.
With several kinds of Cannabis available to you on your hand-held device, ordering some to suit your needs is as simple as ordering take-out. However, with every easily available legal dispensary, there are certain basic things that you need to keep in mind while ordering weed products.
1. Choose the Best Weed Apothecary for You
Depending on the laws in the state that you live in, you may or may not need a medical prescription to buy weed. Make sure that ordering weed is entirely legal in your area before making the decision.
There may be several weed dispensaries available near you that offer a variety of services. Keep in mind that there still exist a few unlicensed dispensaries that sell products that have not been tested.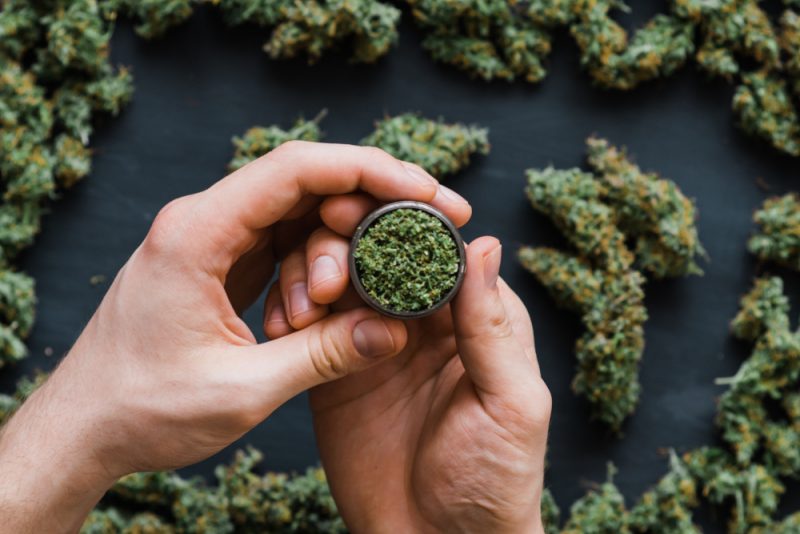 The easiest way for you to find trusted sources would be to visit the websites of popular platforms such as Eaze. This point forward, it just gets easier. Simply adding in your address gives you a list of dispensaries near you, along with the details of the stock that they carry.
While this seems like a normal thing that every person ordering online would do, our objective having mentioned this is to ensure that you end up ordering pure weed without impurities from the right sources.
2. Show Your Proof of Identity
An important factor to be considered while ordering weed online either for medical or recreational purposes is I.D Proof. Every Cannabis dispensary and online platforms are legally required to give you your package only after showing proper identification.
This is to ensure that you are over the age of 21, which is the legal age to order and use such substances. In the case of certain other places, weed can only be legally consumed if a doctor's prescription is presented.
Before placing an order, make sure to have all the information that you need to provide at the end of the delivery.
3. Demand for Tested Diverse Products
If this is your first time ordering weed online, be advised that there is an abundance of strains and products available for you to choose from. Each product varies in the effects it causes, both regarding psychoactive effects and purity. Each strain of the weed also affects your state differently.
Checking out the testing results of such products can give you valuable insights into the effects it offers and if it will be the right fit for you. Hence, ensure that your dispensary provides you with the necessary reports and details that you need before you place your order. You might also find helpful reviews from previous customers to guide you.
4. One More Stop Before Your Package
Though the ordering process is similar to placing an order on Amazon, the delivery and payment do vary. Though the weed is being delivered to you, the location may your front door or an area near to you.
This is usually chosen to be followed by the platforms or dispensaries for security purposes. The payment option can also be altered to suit your needs.
Paying online immediately after placing the order is only advised if you completely trust your source. This is because Cannabis, in particular, can be pricey with respect to the product that you have chosen.
Paying in cash after seeing the product that has been delivered to you can also be done but varies with every platform. Once again, a considerable amount of caution must be taken if you are inexperienced in using Cannabis.
5. Small Chances You Need Not Take
The legality of medicinal as well as recreational weed use is still in its early stages in several states. There are many risks involved while ordering weed to be delivered to you.
The main reason for caution would be to properly understand the laws related to weed use in your state specifically. For example, while the laws may be lenient in Florida, weed is still an illegal substance in Washington.
Law Enforcement officials conduct searches very often in order to find illegally transported substances. So, it is yet again advised that before you order, to make sure that the service delivers it with the proper paperwork.
Furthermore, the quality of the weed you buy is also very important to be considered. Any form of impurities present in the substance could cause very real harm to your health. Trusted sources often provide test reports along with their products.
6. You're on Your Way!
On a lighter note, ordering weed online is extremely easy once you have taken care of the aforementioned basics. For a first-timer, you might even be offered certain discounts on your products. You could also try experimenting with Eaze promo codes when you have settled for the right product.
Choosing the product that you want to buy can be a fun experience since there are several options now available. Experimenting on different strains while keeping your health in mind could also prove beneficial. Starting from the usual types of weed, they are also available in the form of edibles, tea, and other such products.
To conclude,
Once you have settled into the groove of ordering your weed online and the product that is perfect for you, there really is nothing else to worry about. Take care while ordering your weed, have some cash handy in case of any emergency, and don't forget to tip your delivery person well.
Now, what are you waiting for?
Go, put your hand to the plow!