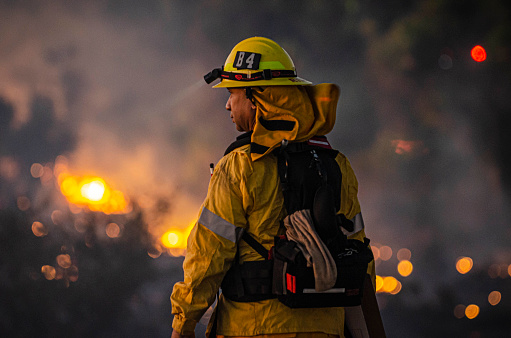 3 mins read
Record-Breaking California Wildfire Sparked from a Gender Reveal Party
One of the wildfires currently devastating California started from a recent gender reveal party. Over 200 people were airlifted to safety in northern California over the weekend after they were trapped by a fast-moving wildfire near the Mammoth Pool Reservoir northeast of Fresno.
This year, wildfires damaged a record 8,000 square kilometers in California. The danger of further destruction is so terrific that the U.S. Forest Service has said it was closing all eight national forests in the southern half of the state.
A smoke-generating pyrotechnic device triggered a fire in the El Dorado Ranch Park on September 5, according to a press release from the Cal Fire San Bernardino Unit. The piece of equipment, allegedly being used for a gender reveal party, began burning at 10:23 a.m.
As of September 7, the website of the Cal Fire incident reported that the fire had grown over 7,386 acres and contained only 7 percent. Currently, the fire status is active with more than 527 people on hand so far.
The fire forced several communities to evacuate including Oak Glen, Yucaipa Ridge, Mountain Home Village, and Forest Falls. Additional evacuation warnings are in effect for the bench area at Yucaipa.
The San Bernardino National Forest Service warned on September 7 that the elevated temperature and humidity of the area combined with winds will "result throughout the night in continuing active fire behavior."
No charges have been revealed for the incident, per CNN. Cal Fire officials, however, announced that those responsible for starting fires due to negligence or illegal activity may be held liable financially or criminally.
This is not the first time in a raging wildfire that gender reveal party has ended. A video shared by the U.S. in 2018 Forest Service has gone viral, depicting a blue-tinted explosion in Arizona that burned across 47,000 acres and caused damage of over $8 million.
Now, social media users share this news as another example of reasons for completely ending the trend of gender reveal parties, which many believe reinforces harmful gender constructs.
"That's a series wrap on gender reveal parties!" On September 8, Schitt's Creek creator Dan Levy tweeted.
Officials urged the public to remember that "it doesn't take much to start a wildfire," in the Cal Fire press release.
As per the latest reports released by the Californian State Fire Department, more than two million acres of land have disappeared from the California fire. As the fires continue to rage, tons of smoke were blown away from the forests which will further tamper the efforts of the fire department to airlift the trapped people. On September 7, the state administration issued an evacuation notice for the entire Southern California region. So far, around seven people have died and 3,800 buildings were destroyed.