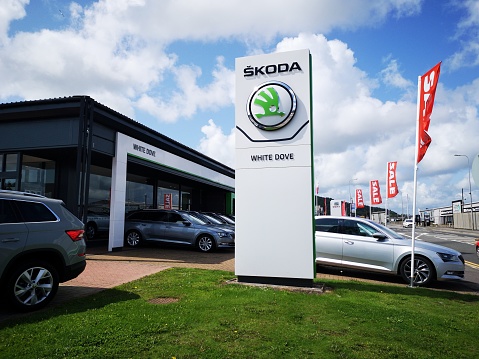 2 mins read
Skoda Partners with Lumos Labs and Microsoft for Blockchain Solutions
A futuristic partnership held by Skoda Auto DigiLab, India with Microsoft and Lumos Labs for developing blockchain solutions in manufacturing has been forged. This move will be a defining one especially in the next generation of cars being manufactured. Skoda Auto DigiLab, India is an ideal center for Skoda Auto Volkwagen to develop increased mobility and connectivity solutions. Lumos Labs is an innovative management organization.
Auto manufacturers have always been scouting for disparate technologies.
Earlier in the year, BMW, the German auto giant released information about its blockchain project focused on tracking components and raw materials used in production. Toyota too announced its foray into this technology with the launch of its Blockchain Lab. Last year, there was a similar project initiated by Ford. Tech Mahindra and Skoda Auto DigiLab India are the pioneering System integrators and OEM using the Century Program's Discrete Manufacturing Track.
Microsoft will provide startups with access to technology assets and planned GTM (Go-To-Market) activities. The Century Program can help solve real-time challenges faced by businesses. Tezos will be the open-source and secure blockchain protocol that will be used. Tezos India will provide support to the startup participants into self-amending blockchain protocols and building decentralized applications.
With this move, Skoda Auto DigiLab will be the first OEM (Original Equipment Manufacturer) to identify and curate an enterprise blockchain startup programs. Microsoft Century Program will be used as the discrete manufacturing track. The blockchain technology can be leveraged to transform automobiles of the next generation. DigiLab with use the Century Program to kick start the innovation among startups. This can boost the development of mobile platforms and digital tools that can be implemented in the auto industry.
With this move, Skoda Auto DigiLab seeks to put its digitization expertise to identify and find solutions to real-time challenges of organizations in the identified sectors:
Oil and Natural Gas
Trade Finance
Healthcare
Media and Entertainment
Discrete Manufacturing
Public Sector
Telecom Sector
The startups that have been identified will be part of the 18-month Century Program that will provide them with avenues for engagement with experts in the industry. They can use the network partners of Skoda Auto DigiLab to further their business.
During this period, the startups can harness emerging blockchain technologies to come up with sustainable enterprise-grade blockchain solutions that can be implemented across various industries. This program will go a long way in making blockchain applications across different industries in India thereby developing the possibilities of many blockchain enterprise solutions. It can herald an Indian Blockchain ecosystem with enterprise-ready blockchain case solutions to address problems in different sectors.